Battery Summit Inspires Partnerships
December 8, 2020
The Bay Area Battery Summit (BABS) just concluded its sixth annual conference, which was held virtually on November 17-18. This year, the two-day conference went beyond batteries and focused on catalyzing collaboration to drive innovation among key players in energy storage.
The summit brought together leading researchers and policymakers, pioneering companies and startups, as well as innovative entrepreneurs and investors to discuss how to implement the U.S. Department of Energy's (DOE's) Energy Storage Grand Challenge (ESGC) and scale technologies from the lab to manufacturing and the marketplace. Three of DOE's Bay Area National Labs have rotated co-hosting BABS each year since 2015, and this year the summit was co-hosted by New Energy Nexus, CalCharge and Lawrence Livermore National Laboratory.
Keynote speakers at this year's summit included 2019 Nobel laureate Stanley Whittingham, DOE Deputy Assistant Secretary for Advanced Grid R&D Mike Pesin and President & CEO of California Independent System Operator (CAISO) Elliot Mainzer, joined by industry experts from Toyota, BloombergNEF, and Southern California Gas Company. Startup founders from SILA, MALTA, Natron Energy and Voltaiq and investors from Volta Energy Technology, Generate Capital and Kelly Venture attended the two-day summit.
Top-tier scientists from DOE's Lawrence Berkeley National Laboratory (Berkeley Lab) also participated and presented their expertise at this year's conference. Associate Lab Director of the Energy Technologies Area Ravi Prasher presented in the "Lithium Valley: Supercharging the Value Chain in California and Across the Nation" session. Executive Director of the newly formed Berkeley Lab Energy Storage Center Noël Bakhtian and Research Scientist Gao Liu led a panel on how DOE National Lab partnerships can help accelerate energy storage research and development.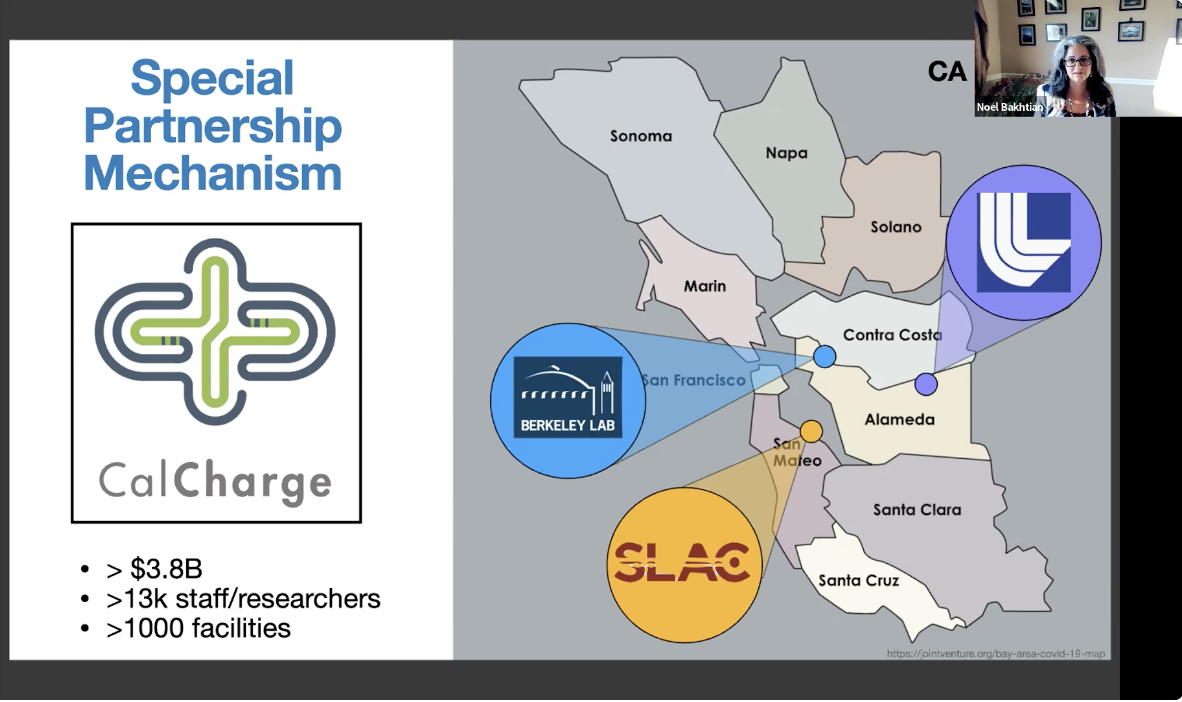 "California has one of the largest and most dynamic concentrations of energy storage players in the world," said Bakhtian. "Three Bay Area National Labs - Berkeley Lab, Lawrence Livermore National Laboratory and SLAC National Accelerator Laboratory - have come together under the CalCharge branding, operated by the New Energy Nexus, to provide energy storage stakeholders structure, value and access to the National Labs. We aim to anchor a thriving ecosystem to accelerate our nation's energy storage innovation and deployment."
Early on, Berkeley Lab began pioneering the concept of a consortium of companies working in the energy storage space, and became a founding member of CalCharge. To streamline the contractual mechanism by which industry can leverage Lab expertise and capabilities, Berkeley Lab helped develop the CalCharge CRADA, which is available to all CalCharge members. To explore partnership with one of DOE's National Labs through CalCharge, please fill out this survey.
Following the success of this year's virtual summit, Berkeley Lab looks forward to co-hosting the Bay Area Battery Summit next year.